Anime premieres on October 5
---
The official website for the television anime of Shizuki Fujisawa's Yuzuki-san Chi no Yon-Kyōdai (Youth Story of a Family or literally, The Four Yuzuki Brothers) manga started streaming the anime's main promotional video on Tuesday. The video previews the "Naite Iinda" (It's Okay to Cry) opening theme song by flumpool and also lists more staff members (which were listed on the website last week).
The newly announced staff members are:
The anime will premiere on October 5 on the TOKYO MX, BS11, and AT-X channels. The anime will also have an advance screening event in October. The anime's staff will announce more event details soon.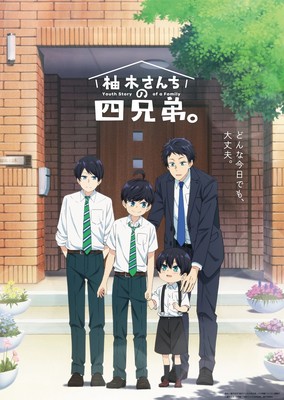 The anime stars:
Ryōta Iwasaki as Hayato Yuzuki, the eldest brother and family's central pillar who is worldly wise
Kikunosuke Toya as Mikoto Yuzuki the second son who is cool and has a brother complex
Miyuki Sakurai as Minato Yuzuki, the third son who is energetic and thoughtful of his siblings
Momoka Terasawa as Gakuto, the fourth son who is actually the most grown up, and a first-year elementary school student whom everyone calls a hermit
Additional cast includes:
Mitsuru Hongo (Gunma-chan, Ascendance of a Bookworm) is directing the anime at Shuka (Natsume's Book of Friends seasons 5-6), and Orie Tanaka (Natsume's Book of Friends animation director) is designing the characters and is serving as chief animation director. Yoshikazu Suo (Magical Project S, The Melody of Oblivion) is composing the music. Aoi Kubo performs the ending theme song "Sasakure" (Splinter).
The coming-of-age story follows four brothers — from oldest to youngest, the family's breadwinner and school teacher Hayato, the aloof Mikoto who dotes on Minato perhaps too much, the meek Minato, and the confident first-grader Gakuto.
The manga has been running in Shogakukan's shōjo manga magazine Betsucomi since 2018. The manga won the shōjo category in the 66th Shogakukan Manga Prizes in 2020.

Sources: Yuzuki-san Chi no Yon-Kyōdai anime's website, Comic Natalie
---