With live-action One Piece receiving favorable reviews from critics and fans alike, Nick and Steve look back and previous attempts to bridge the gap between anime and live-action in Hollywood…and why they didn't work.
Disclaimer: The views and opinions expressed by the participants in this chatlog are not the views of Anime News Network.
Spoiler Warning for discussion of the series ahead.
Dragonball: Evolution and Alita: Battle Angel are streaming on Hulu; Speed Racer is streaming on Max; Death Note, Cowboy Bebop, and One Piece are streaming on Netflix. Ghost in the Shell is available on VOD and home video.
CONTENT WARNING: There's a bare ass in this column. You probably shouldn't read it at work.
---
Nick
Steve, we need to face facts. It's all well and good to talk about our funny cartoons here, but if we want to be respected—if we want real prestige—we need to mature beyond these silly drawings and get REAL.
Steve
That's damn right. What, am I expected to watch something animated for this column? That a baby could have drawn with a crayon? Puh-lease. We are serious art enjoyers who want that true grit that can only come from glossy 4K footage of the essential male ass.
That's right, folks, against all odds, the live-action One Piece adaptation has sailed into port, and against even all—er odds, it's been pretty well received. Which means Satan better bust out his ice skates.
A good live-action adaptation of anime? As was once spoken in legends? Yes, it's true. And, arguably, it isn't even the first time this has happened. Between their constant attempts to filch writers and actors for all they're worth, the Hollywood system has taken its fair share of cracks at anime and manga adaptations you could conceivably convince your parents to take you to see with minimal embarrassment. Unsurprisingly, these results have been mixed.
Granted, the biggest hurdle to these things is getting made in the first place. I'm sure just about everyone has seen a headline announcing such-and-such film studio has bought the rights to this-or-that popular anime, only for it to never amount to anything. Remember the live-action My Hero Academia or Sword Art Online series announced half a decade ago? Or the Guillermo del Toro Monster series that died in the cradle? Exactly how many directors or writers have been momentarily attached to that mythical Akira movie?
Everyone (i.e., producers) loves an IP until that IP is difficult to transpose into three dimensions on account of the relative ease with which a person can illustrate almost anything that pops into their imagination. Even with the advent of CG technology and fidelity, there are just lots of inherent qualities to manga and anime that are anathema to what works in a live-action production. That's not to say it's an impossible task, but it requires a lot of thought and care. You want to make something true to the original, but you also want to make something feasible to film and able to appeal to a broader audience. That's a thankless task! Especially if you get it horribly, horribly wrong.
This is a lot more liable to happen when you have a bunch of crusty film execs who want you to, say, change damn near everything to make the story, character, and setting into something more familiar for American audiences. That's such a big problem you might even turn one of the most widely successful and beloved anime of all time into a walking punchline for over 15 years!



Dragonball: Evolution is such a funny project to look at in retrospect. Dragon Ball Z got so popular it was considered normal to like it. This was already a huge, proven hit with American audiences. You don't fix what ain't broken! But oh, how they broke it.
It really is the poster child for everything that can go wrong with one of these things. A tortured production, poorly used budget, and a total creative misfire that features Goku, the legendary defender of Earth, getting into a poorly edited street fight with high school bullies who call him "Geek-u." It's almost impressive how badly they screwed up.
I just watched it for the first time, and besides everything you mentioned, I have to emphasize that it's also barely a movie. I wasn't shocked when I saw the $30 million budget—it looks like it—but I was shocked the producers thought they could handle the Dragon Ball name like this. Maybe, with a few adjustments, they could have gotten away with turning this into an unrelated cheesy martial arts flick whose weirdness could have captured a cult following? But not when you're calling this guy Goku.
God damn, I'd blocked out the weird forehead veins they gave him to make it look like he's powering up or whatever. Even outside of casting a white guy with bedhead to play one of the most iconic anime characters of all time, they were not equipped to bring the action and science-fantasy elements of DBZ to life. I'd almost feel sorry for this thing if it wasn't such a pain in the ass to sit through.
Oh, if you want more veiny reminders, I've got you covered.
Please no. I already need to go on a quest to find the dragon balls to erase the image of live-action Oozaru from my mind.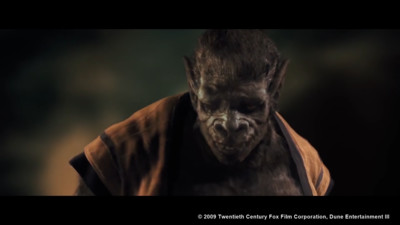 What about Piccolo? Don't you like one-off Power Rangers villains standing in front of the worst green screen you've ever seen? That doesn't inspire cosmic terror in you?
The only thing terrifying here is that they managed to cast Chow Yun-Fat and completely waste him.
With an utter misfire like that (I cannot stress enough how nothing like Dragon Ball this film is), it's easy to understand why so many of us approach these projects with skepticism. But Evolution isn't even where this all began. We got another live-action take on an anime classic one year prior. Except this one was made by people who know the rules for making movies. And then intentionally broke a lot of them.
Speed Racer is a weird one. When it came out, its extremely literal approach to bringing the anime to life was seen as so cheesy and off-putting that it severely underperformed and mostly became a short-lived punchline in the U.S. media cycle. Yet, over the years, it pulled an image rehab until it's now largely considered one of the good ones.
And with good reason! I put it on just for the hell of it right before logging in to complain about anime with you, and I think it's even better than my fond memories of it. Leave it to the uber-nerd Wachowski sisters to take such a gonzo approach to cartooning up real life and make it work as well as it does. The last time I saw colors like this on the silver screen…was probably Barbie, which doesn't help make my point, but that's a good movie too.
It's certainly bold, but frankly, I can see why audiences bounced off it so hard. Sure, it looks striking compared to many of the cement-gray CGI that's defined so much of big-budget Hollywood projects. Still, there's also a surreality that can feel creepy rather than endearing.
Yeah, whereas Dragonball: Evolution tried pulling its story into the normalcy of a high school hallway, Speed Racer leans about as far as you can in the opposite direction, embracing and focusing on the hyper-reality of its source material. It's not a gambit that paid off well, financially or critically, but it makes the movie a great piece of outsider pop art that contrarian snobs like me can enjoy.
At times, it feels more like watching a high-budget Hot Wheels commercial than a movie, but its saving grace is that it just goes for it, y'know? So much of Hollywood storytelling is defined by self-conscious cynicism for the sake of "realism" that it's refreshing when one of these things isn't embarrassed to admit it's an anime.
That's a point that comes up a lot—that presumed embarrassment. I think it's probably fair to say some of that is projection on the audience's part, and some of what inspires that feeling is probably just a product of a Hollywood system that naturally sands down the weirder edges of most of its products. But then you do see adaptations that seem to distance themselves as far away from their sources as they can, and you have to wonder.
I'm just saying, it took five tries for them to make an X-Men movie with yellow suits. It's no wonder everyone expected Netflix One Piece to suck the life out of the source material when it was announced. Frankly, I'm still shocked the company that was afraid of setting Death Note in Japan was willing to keep the name "Monkey D. Luffy" intact.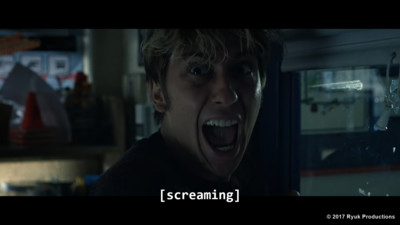 Okay, Netflix's Death Note is weird for me because it is terrible, and I love it. The film feels like it holds active contempt for the manga, which you do not want from a high-profile adaptation of a beloved psychological thriller. But the manga is also highly goofy, so a part of me respects this irreverence.
Look, we already talked about this one before, and I'm not about to let you meme your way into pretending this is good like our generation has with the Star Wars prequels. For now, let's agree that these being real, accurate screencaps from a Death Note property is the funniest thing possible.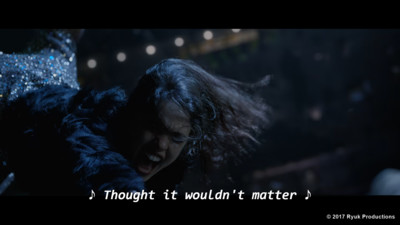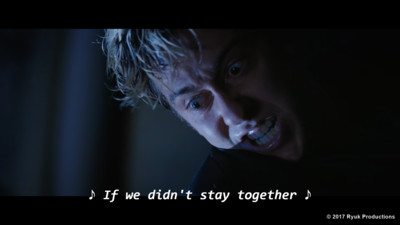 It's so funny. Pure brilliance and I won't hear otherwise.
Really, though, Death Note was such an odd production. It felt like the producers loved the central concept and hated everything else, so any similarities to the original were purely out of obligation. And like DB Evolution, it somehow roped in the perfect casting with Willem Dafoe and squandered him.
I'm not going to check the prior column we did on this to see if we already made this joke because we probably did, but the film would have improved tenfold if it had given us unadulterated mocap Dafoe in every scene.
What really gets me is that translating Death Note to live-action is Easy Mode. Outside of Ryuk, the rest of the show is smirking assholes in business suits or sweatpants. There are no over-the-top designs that would look awkward on a real person, nothing that would require an inordinate amount of effects work. Yet the CGI death monster is the one thing they nailed.
The history of film is a history of people missing easy layups. Let's hone in on something as fundamental as casting; 2017 was quite the banner year for white people playing Japanese characters. Not in the sense that this was the first time it had ever happened, because, lol. But in the sense that these complaints finally gained real traction in the age of social media. To the point, for instance, that Paramount bigwigs were blaming Ghost in the Shell's box office underperformance on it.
I'm sure ScarJo's casting wasn't the only reason that the GitS movie didn't do very well, but I honestly couldn't tell you what the others might be. Because I don't remember jack about that thing and honestly forgot it existed until about 20 minutes before we started this column.
I will be honest with you: I haven't seen it, and not even my professional obligation to this website was enough to spur me to change that. On the subject of what works as a movie, Ghost in the Shell already has a perfect 1995 anime film that many people consider a paragon of the entire medium. The decision to do a similar take on the franchise in a live-action format feels all the more egregious.
My most definite memories are that it tried really hard to recreate the film's most iconic visuals in a way that felt sterile at best. Also, I may be mixing it up with that dumb movie where ScarJo gets superpowers from unlocking her brain. Either way, the sheer dearth of impact it had in either direction when it's based on one of the most enduring pieces of science fiction says enough.
At least we only had to wait a couple more years to cycle through another live-action adaptation of a classic cyberpunk manga, only this time it was surprisingly pretty decent. It's probably because it had more rollerblading robots.
I still haven't watched Alita. It's almost entirely because I can't make it past the main character's eyes. Maybe that's me being hypocritical since this is the most anime-looking thing of anything we've talked about, but boy, does it give me the willies.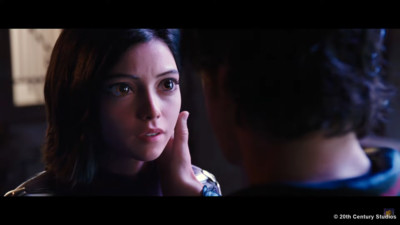 It's a bizarre choice! And like the Wachowskis pushing the saturation slider until it broke, I like that Alita runs with it. It gives the film some character, even if it is an uncanny character.
If nothing else, I remember it despite not sitting through the film! Plus, the creators have been very loud about wanting to do more, despite a questionable box office performance, so you can tell they give a damn about this property beyond a paycheck. I can admire the creative drive and dedication, even if the result makes me feel like I'm looking at a haunted doll.
I don't have a ton of affection for the Avatar films, but if James Cameron wants to use them to bankroll more bug-eyed Alita entries, you will not find me complaining an ounce about those big blue people.
If the dude can spend two decades funding state-of-the-art submersibles to reach the most distant depths of the ocean, I'm sure he can wear down some studio suit to fund a sequel. This is certainly a brighter outlook than the other, OTHER beloved sci-fi anime that got dragged kicking and screaming into meatspace.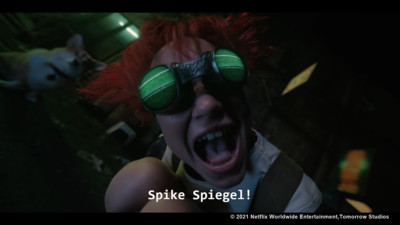 My face when remembering Netflix Cowboy Bebop.
Ahhhh the memories. He may have been the absolute worst choice for a Cowboy Bebop adaptation, but Netflix Vicious truly was a gift.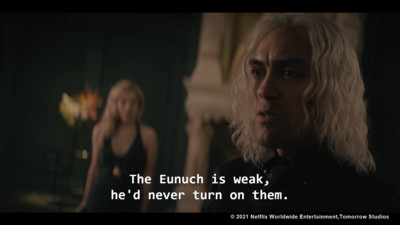 Seriously though, how did Cowboy Bebop and One Piece both get flesh and blood adaptations, and it's the former that wound up feeling like an uncanny, unpleasant cartoon?
I still don't get it. Anyone can look at the anime and identify it as an extended love letter to a hodgepodge of classic film genres and tropes, which would seem to make a no-brainer transition into live-action. But the show is one colossal tonal misfire comprising countless smaller ones. It takes itself seriously to the point of comedy in some spots. Its actual attempts at comedy largely fall flat. Not even Yoko Kanno's music salvages much of the Cowboy Bebop feel. Only Vicious' constant mugging makes me feel anything.
It's so bizarre. Of all the myriad cinematic influences they could have pulled from to bring this of all properties to life, they went with the Warren Beatty Dick Tracy movie. Yet somehow, that was a less cringe choice than the script: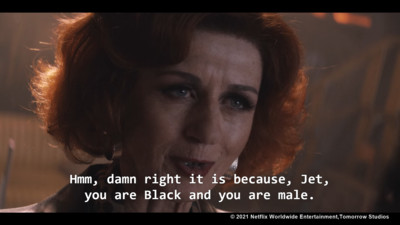 This was supposed to be the easy, predictable one. The one where people heard the pitch and thought, "Yeah, that could work." If they could bungle this one so badly, how could anyone expect One Piece not to be a disaster?
I know I wasn't looking forward to it! I'm still a One Piece neophyte, so I didn't have much of an investment in this show, regardless of its ultimate quality. Color me surprised, though, because somehow they did indeed pull off the story about a guy whose literal superpower is his ability to turn into a stretchy physics-defying cartoon character. I had a great time!
It really, really should not work. There are certainly parts of this show that are weak or questionable, but the important thing is that I felt engaged enough to watch it as a show rather than a trainwreck. If that's not a minor miracle, I don't know what is.
Right? I was compelled to see the next episode when I finished one. It wasn't anywhere close to the dirge-like experience of forcing my way through Cowboy Bebop. The cast and script combined to generate a good dose of moment-to-moment fun and momentum and an overarching sense of progression as Luffy discovered new locales and allies. It felt like a real TV show. It's wild.
And it even feels like One Piece! The cast are all great in their roles, capturing what made these characters likable enough to follow for over half my life. Plus, as a longtime fan, I can appreciate the incredible detail and thought that went into the costume and set designs. While some don't quite work, to see so many of these wacky, goofy ideas brought to life without a hint of irony or self-conscious snark is surreal.
The animatronic transponder snails are so good. It's the kind of detail you'd expect most production nowadays to throw to the computer VFX artists, so having a tactile prop did a whole lot for me. Along those lines, I was impressed by all the actual sets they built.
But to your other point, the importance of the earnestness of the whole production can't be understated. I had a tweet go semi-viral over the weekend just because I observed how Garp shows up in this hat without a single Marine making a single quip about it, so I guess I'm not alone in feeling that, either.
It may sound like damning with faint praise, but it is critical to the charm of all this. One Piece is a lot of things, and that includes things like "goofy" and "ridiculous" and "features a goddamn lamb man for no reason." Being willing to present all of that to the audience without the need to wink at them does a lot to make the experience feel sincere.
It invites the viewer to engage with the world rather than mock it and allows things like a pirate samurai who fights with a sword in his mouth to have a brawl with two people dressed as cats. Where else am I gonna get that?
The Straw Hat crew still exchanges banter and snide remarks between themselves, but nothing feels like it's stretching over the fourth wall to pat the scriptwriter on the back. The show finds its joy elsewhere, usually by reveling in the inherent absurdity of its setting. Some bits and characters get left out, as there have to be when you're adapting something as sprawling as One Piece, but for every omission, there exists another moment or image that I never expected the live-action to go for.
Also, somebody got the memo about Netflix Vicious because they just put him in this show.
The difference is they knew Helmeppo was a joke.
Who at Netflix keeps ripping the shirts off of pasty boys with long, flaxen hair?
I don't know, but it seems to be working for them. Somehow, Helmeppo and Buggy have wound up this show's online thirst traps. I'm not sure if that's a good thing, but it's impressive nonetheless.
I refuse to talk about sexy clowns for the umpteenth time in this column, so I will redirect my question to find out who gave Mihawk his transponder snail Bluetooth earpiece.
Presumably, the same person who kept the poop emojis on Captain Kuro's outfit, God bless them for it.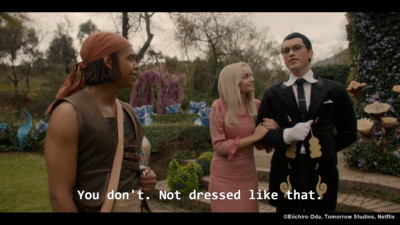 They gave his collar those little curlicues, too. And there's a surfeit of small touches that add up to a lot throughout the season—many of which I'm sure I missed. While there are plenty of other more important clues that the showrunners genuinely cared about this material, attention to the minutiae is the most fun to pick up on.
Granted, it's not perfect. Some edits to the story feel clunky, and even their best efforts can't stop certain characters from feeling like plastic action figures. Yet it all still works because it's got the same beating heart as the original. I can't say how it'll play to non-fans
(Signs point to pretty well.)
But I can at least speak for myself in saying I'd like more.
Same! I picked the manga back up a few weeks ago before the Netflix series dropped, and I was already having a good time with it, but between that and now, this show exceeding expectations, I'm feeling the love for Luffy and his band of weirdos. And ideally, that's what live-action anime adaptations should strive for. They should stand well enough on their own, but ultimately, they should also kindle or rekindle interest in the original work. While live-action may be an easier sell for a larger swathe of the general audience, cartoons and comics are just as rich with their own idiosyncrasies. You just gotta get to know 'em.
Unfortunately, the state of streaming also means that even this show being good AND seemingly popular doesn't guarantee it'll get a continuation. We may never see how this team would handle Tony Tony Chopper, Giants, or the gun that turns into a dog. So, I'll embrace the happy surprise as we sail into uncertain seas.