Chris and Nicky examine the recent spat of feature-length anime premieres, whether the story calls for it, or if it's all in pursuit of the elusive "prestige" designation.
This series is streaming on Netflix, Crunchyroll, and others.
Disclaimer: The views and opinions expressed by the participants in this chatlog are not the views of Anime News Network.
Spoiler Warning for discussion of the series ahead.
---
Chris
Hey Nicky, sorry I'm late. I know you said you wanted to watch
Frieren
for This Week In Anime, but I just haven't had the time to sit down with it. But that's okay; we're only a couple of weeks into this season. I'm sure it won't take too long to catch up on—
Oh, what the hell.
Nicky
Do you ever sit down to watch a new series only to discover that there's a movie's worth of content waiting for you? Do you get lost in the length of some premieres? Would you avoid starting a new series if it took multiple sittings to get through the prologue? This year, it feels like premieres have gotten longer. In addition to the occasional double-length episode, a few series have had premieres extending into full movies worth of runtime. Most notably, the wild ride that is Oshi no Ko. However, for some, those show-stopping timestamps might be a complete non-starter.
There are a lot of ins and outs to the variations of this phenomenon. Extra-long episodes, particularly premieres, are something that television in general, not just anime, is no stranger to. It seems like every season has brought us one or two shows that opted for an hour-long initiating episode. Whether you think that results in more of an impact depends on whether you remember titles with such staying power as Remake Our Life! or Warlords of Sigrdrifa.
Don't worry, Ragna Crimson, I'm sure it'll turn out differently for you.
It's also not entirely a new trend; since the launch of streaming, double-length episode premieres have been more common, and occasionally, anime would release multiple anime episodes at once for cons and short theater runs. Some anime like G-Witch and the upcoming Strange/Fake adaptation have had OVAs ahead of their series broadcasts. Nowadays, live-action movies and series are also getting longer. It's enough to make you wonder whether or not this growing trend has also extended to anime.
It's ticked up noticeably. Not just in the number of double-length premieres we've gotten over the seasons but also in how just one hour doesn't seem enough for some shows anymore! Recently, it's seemed like there's an arms race on the horizon. Oshi no Ko turned headlines with its 90-minute opening act. Here comes Frieren: Beyond Journey's End dropping the first
two hours
of itself on opening night.
Netflix's Ōoku had a similar movie-length premiere covering the manga's first volume and its binge-model drop of the entire series.
Because hey, what do you feel like doing more after watching a film than firing up an entire television season?
These examples are manga adaptations, and some had story-connected reasons for their lengths. The first chapters of Oshi no Ko and Ōoku are big departures from later developments, so putting those together in one big section does segregate them as the framing devices for the rest of the story. I had read
Frieren
via Viz Manga before the premiere, and I understood the decision better as the opening chapters were longer than average. However, combined, it is the longest premiere we've had to date.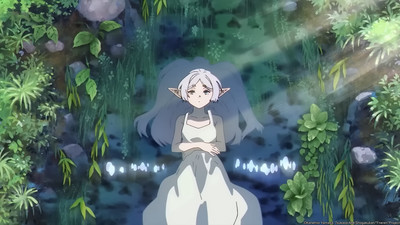 Frieren
sticks out compared to its feature-length contemporaries. First of all, no attempt was made in its release to present those first four episodes as one single entry, unlike Oshi no Ko and Ōoku. And that's because
Frieren's
episodes, while connected in an ongoing story, don't form as much of a tight, stand-alone narrative as those other openers. In fact, given the hype cycle that had already built up around this adaptation and the way its first half-hour hits as a high-concept short film on its own, I'd argue that
Frieren
probably could have killed in its premiere without having another three entries immediately ready to go.
At the very least, Crunchyroll deigned to break it up into separate episodes, unlike the other entries. However, it was initially broadcast together. While most of us stream anime, it's good to remember that many still air on TV in some capacity. In
Frieren
's case, there was also a special ED song and animation done by the legendary Yoh Yoshinari, but for some reason, it is not available worldwide, leaving us to settle for the equally gorgeous regular ending sequence featuring the song "Anytime Anywhere" by milet.
Compiling these big beginnings together allows the production companies to find other avenues to release them to build on that much-needed hype. That Oshi no Ko premiere wasn't just movie length; it was released in movie theaters in advance of the show's airing.
It's kind of the opposite of doing compilation versions of anime TV series to release in theaters later, if I think about it.
Crunchyroll also had a red carpet showing for Demon Slayer's Swordsmith Village Arc in Los Angeles. Both theatrical and broadcast blocks create an impression that these are events, so I can see some social arguments more when you have an appointed time or ticket to sit down and watch something than booting up my computer. Similar to the rise of hour-long "prestige TV" episodes, the slightly higher budget and time might make viewers feel like they're being treated to a luxurious experience rather than just another anime series.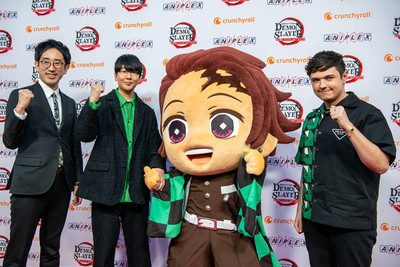 They also went with that hour length for Fate/Zero and the first two episodes of Fate/stay night: Unlimited Blade Works, so maybe like LiSA opening songs and tax evasion, this is a ufotable thing.
Seriously though, that "prestige" aspect also ties into the rise of streaming as a viewing vehicle for anime. I cracked wise about Ōoku putting its opening movie before the rest of the series for binging. But Ōoku was a Netflix exclusive that dropped all its episodes simultaneously, as they tend to do. They could have had the show's first three half-hours separated between opening and ending songs, as Crunchyroll's
Frieren
release did. Yet they still chose to present that opening story as one contiguous piece because those behind the series felt that was essential to the tone and pacing.
ufotable has always gone out of its way to show off its money-making prowess, and it seems it intends to continue the model it used for Fate with its adaptation of
Demon Slayer
. Given its penchant for lecturing about its world-building, I didn't mind having an extended set-up for Fate. I felt like the most recent Demon Slayer arc had the least justification for being the length that it was, despite being shorter than Ōoku. It had the worst pacing and editing, with scenes going longer than they were intended to be. If anything needed slicing, it was that.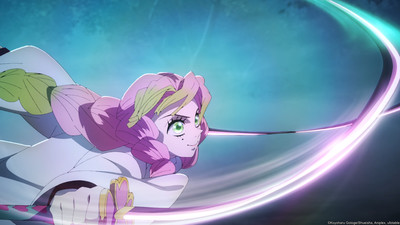 Demon Slayer didn't get the extra-long treatment when it started in its first season. So, blessing it with that prestige length could be seen as an attempt at tapping into the hype the series had built up for itself. And as you said, that sticks out if the material isn't conducive to being presented that way. As another sidebar, I felt that same issue with this season's Ragna Crimson. A first-episode story that easily could have been only a half-hour but was artificially inflated and dragged out conspicuously because they had the opportunity for that fuller, fancier time slot.
It's remarkable to witness the infamous "Netflix Pacing" phenomenon afflict an hour-long episode that isn't even on Netflix.
I mentioned that theaters and traditional syndication have an impact, but streaming has a different but equally important impact. I attribute no small portion of that to Netflix and the rise of other digital-only platforms. While streaming doesn't have exact time blocks to create events, they receive the freedom to be whatever length they choose. Since they aren't competing for times, episodes don't have to fit into standardized measurements. Though occasionally broadcast versions will accommodate, I couldn't imagine what it might've been like to see something like Re:Zero season 2 on TV compared to how I viewed it on streaming, where every episode was pretty much a non-standard length (and good). It was a shocking moment if we ever saw the ED that season.
That freedom of length on streaming has been a boon for the series' pacing when used wisely. I'd love to see how other anime might turn out were they to get the Re:Zero treatment. But just as well, the lack of constraints on streaming shows has also led to productions indulgently stretching and inflating their times. It's not just long anime premieres like Ōoku, it's an across-the-board issue. Don't get me wrong, I'm still a big fan of Netflix's Stranger Things, but even I had to raise an eyebrow when its fourth season debuted with each entry being nearly movie-length on its own, culminating in a two-and-a-half
hour
-long final "episode."
Big blockbuster Hollywood films also feel like they've been getting girthier. Now they're so big they have been split into TWO three-hour epics. With the switch from analog to digital film, making things longer is much cheaper overall than it used to be, and it's more work to pay editors and screenwriters to prune and cull their darlings. There's also that social aspect I mentioned earlier: having an extended running might make a story feel more epic, exciting, or lavish. Hence, the "prestige" part of prestige TV, or viewing an extra-long director's cut. Happy "Put on Lord of the Ring in the background season" for all those who celebrate!
The time investment in getting through all these things is an issue, and it's particularly pointed regarding anime. Over sixty new shows premiered just this fall season, which would be asking enough for anyone to try sampling at the start without several being two, three, or four times the length of an average first episode.
Shout-out to Lynzee's Strongest Soldiers, the Preview Guide team, who still somehow managed to make it all happen.
Even non-anime-watching audiences seem to be a bit fatigued by the whole deal as streaming networks decline and production crews complain about the longer hours. As for anime, while some have the prestige lengths, they don't always have the resources. Ōoku had a good story and decent direction, but overall, it felt cheap. Ragna Crimson didn't feel much more visually impressive than a regular episode. Frieren at least excels in its slower pacing and trying to portray the lifestyle of someone with the minimal concept of time passing. Frieren is also highly fortunate she doesn't live in an era with moving pictures, or she'd never step out of her forest.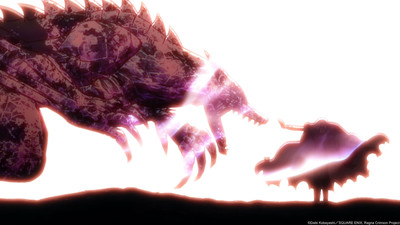 It's definitely on a case-by-case, viewer-by-viewer basis, but there's still the sense that opting for this attention-getting prestige approach can sometimes have the opposite effect. When you have to be picky about what new shows you can sample in your precious free time, loading up a new series and seeing you're going to need to set aside an hour and a half to get through the first episode might cause you to nope out before you even press play.
That also depends on how we perceive time and approach it, and most importantly, as is the case with any media, whether or not the story and presentation are interesting enough to feel like they are worthy of being labeled as time well spent! Time, of course, is one of our most invaluable resources. Why do you think we have so many time-travel gimmicks in anime?! What happens when we're all old folks trying to figure out how to send a message to our younger selves telling us not to invest in so many crappy anime and Netflix garbage?
Huh, now that you mention it, it is funny how the two major extra-length premieres this season,
Frieren
and Ragna Crimson, both deal in odd perceptions or manipulations of the flow of time.
As you said, it depends on how the shows use that time. For as intimidating as something like Oshi no Ko's beefy beginning might appear, I'd say it needs that to communicate the way everything you're watching up to the premiere's credits is only the prologue, with the "real" story kicking off afterward. It's a standard structure for the first chapters of plenty of stories, after all, and it's a qualification that also goes for things like Ōoku or the hour-long intro of 2016's Shōwa Genroku Rakugo Shinjū.
Since I mentioned the prestige TV format earlier and Netflix, it's worth noting that the much-anticipated adaptation of PLUTO are hour-length episodes. This feels appropriate, given that it's a mystery thriller with Urasawa's name on it. That seems like a lot, but it's a story worthy of that format.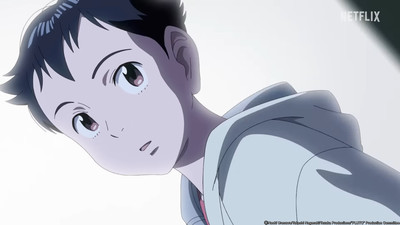 Turning the entire series into something abiding by that prestige length is a separately scaled proposition. It may feel more natural in the case of PLUTO. However, that case also points out that they've tried this sort of thing in places besides premieres. PSYCHO-PASS produced an "Extended Edition" of its first season, where they stuck pairs of episodes together. Meanwhile, Kaguya-sama: Love is War's third season went for a move other shows have pulled, dropping its last two episodes at once for a one-hour
finale
.
Before Re:Zero Season 2 premiered, Season 1 was also compiled in a similar director's cut-style format, making the transition to Season 2 feel like no problem. As someone who first experienced PSYCHO-PASS and Re:Zero this way on my own time, I felt the retroactive decision did elevate the engagement in the story, and in the case of a finale, a longer finale can feel like a big blow-out. Then, why is it a hurdle when an anime releases with a long premiere? I have a few ideas.
Having your big thing up-front creates this kind of physical barrier or hurdle. Viewers might be unsure whether a series is worth making the time to sit down and watch in the first place. They might feel more pressure as avoiding it will inevitably lead them to fall behind on simulcasts or the window to participate in social conversation over the new hotness.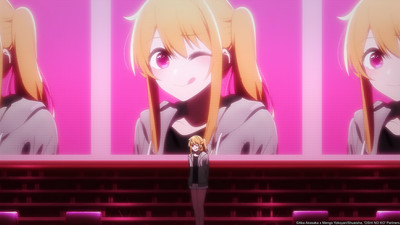 So, instead of feeling excited, the same psychology that leads to appointment viewing may also lead to resistance depending on the individual.
I feel that one, as something I tacitly testified to earlier here, and also as an effect of the onslaught of new shows that comes with any anime season. By the time you make it to a finale, you've probably pruned your following list down considerably.
Some people don't respond well to FOMO (Fear of Missing Out), even when they know they might legitimately not have the time, interest, or motivation to watch something. While some of you may be surprised to hear this coming from the kind of people whose job is to tell you what to watch, there's no harm done by missing out or saving something until you have time.
I can see how that would nullify the intimidation of investment as an issue, especially for those shows where the longer premieres are simply multiple individual episodes that dropped simultaneously. In just six more weeks,
Frieren
's list of episodes won't look any different or more demanding than any other show still taking up space in your backlog.
Along those same lines, I guess you could break something like Oshi no Ko's opening movie into pause-parted, bite-size chunks if you couldn't sit through the whole thing. However, the part of me that's persnickety about particular pacing wouldn't be able to abide doing that myself.
Still, we're no people to judge what works for other people, even if we are particular; you can also decide against watching that premiere on your lunch break and make extra time at home or invite a friend over to watch it and engage with you to keep you from getting bored or to help you with details when you've lost focus. I've found that body-doubling over voice software such as Discord similarly affects long-distance mode (though we can't pause). Either way, things are easier when you have good companions to get you out when you're stuck.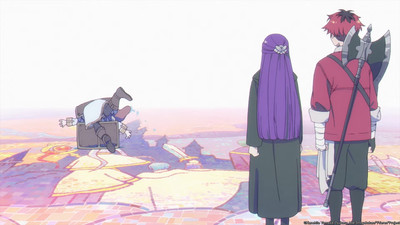 We don't even always watch the whole series together. Sometimes, we catch up individually if our time schedules aren't lining up.
That "Book Club" approach tends to be how I watch things alongside people (Huh, some folks could probably write an entire column around doing that sort of thing…). In that respect, having friends motivate you to watch something and having
more
of it to talk about right out of the starting gate could be another bonus of these All-New Giant-Size anime premieres. Sure, there were other factors contributing to their hype, but that doesn't change the fact that Oshi no Ko and
Frieren
were the talks of my timeline on the days they debuted. Three times as many shows means three times as many screenshots and gifs for people to post.
Dang, too bad that investment didn't pay the same dividends when my beloved BanG Dream! It's MyGo!!!!! tried the three-episode trick for its premiere. It's okay, Anon, I still love you.
They also had highly anticipated source manga, so I wouldn't be surprised if the people posting had already planned out the time to watch it beforehand or knew from others what they were getting into. Either way, how you spend your time seems to depend on being conscious and intentional about using it.
I think that's the ultimate takeaway from taking the time to delve into this subject: It's any anime's prerogative if it wants to make its opening volley longer than normal. It just needs to make sure it's effectively using that extra time. Some live up to that prestige pedigree they're invoking. Still, for every satisfying opening movie like Ōoku, I've seen plenty more like the padded Ragna Crimson or Fate/Zero's insistence on info-dumping everything before the first credits rolled.
Creating a longer piece of media may also require more skill and effort. We used many good examples, but seeing sloppy time-wasting techniques is honestly pretty frustrating. From a production and attention standpoint, it's a considerable risk, and if this is going to be a trend, I'd rather productions first invest in making sure there's a pay-off. First impressions mean a lot! That said, the rest of the show is also worth considering. I thought Ragna Crimson's usage could be better, but I don't want to be too harsh on it since I still thought it was interesting enough to be tempted into watching more of it. That could be my inner emo teenager wanting to hear more of its edgy opening.



It could be frustrating to get sucked into an extra-length premiere for a series and realize before the halfway mark that it's one of the bad ones. Unless you're stuck doing it for work, I hope anyone in that situation would have the presence of mind to turn the thing off before it reached the end of its protracted attempt at prestige. And that fits in with the personal preference aspect. Time was, it was customary to give any show you were interested in a three-episode test before committing to following or dropping it (and many anime tape and DVD releases came with 3-4 episodes to start). If some of today's shows are committed to giving me that many on the first day, the evaluation process will be quicker.
Alternatively, if you immediately know you like a show, you've already got more of it!
Anyways, dear readers, our jobs are predicated around using our time to advise you on how to use yours. So today, my sage advice is not to be afraid to be creative with your anime-watching time. I'm sure you can conquer that big, fearsome monster of a premiere with a bit of courage and creativity if you feel like it's worth the rewards.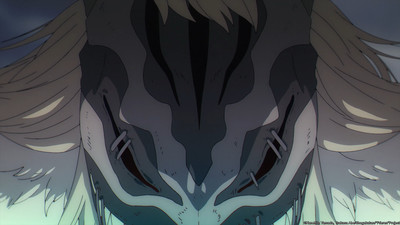 With that said, it's not necessary to partake in battle every time you sit down to watch a new series. Preparation and friends help, but if the show isn't worth the experience to you, then there's nothing wrong with choosing to run away from it. Even if something is big, that doesn't mean it'll be satisfying. Bigger isn't always better! Do whatever you think is the most fun.
Don't worry folks. We know these columns can get big, too, but we don't mind if you take breaks and read this one in parts.
And that's all the time we have for today! See you all soon.