Disney+ Japan revealed a new key visual, stills, an official trailer, and new cast members for Phoenix: Eden17, an anime adaptation of Osamu Tezuka's Phoenix manga, on Tuesday. The anime's Japanese title is Hi no Tori: Eden no Sora (literally, Phoenix: Eden's Space).
Disney+ Japan shared the new trailer, showcasing the story of Romi and Com as they embark on a voyage to an Earth that may no longer exist.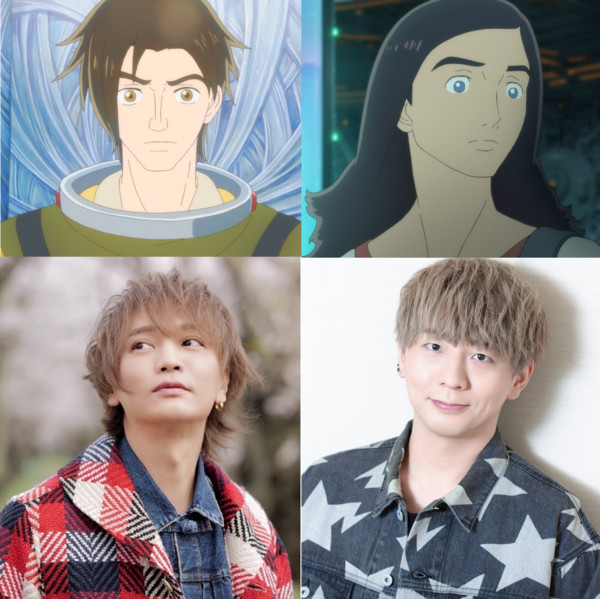 The new cast members for Phoenix: Eden17 (in matching columns left to right in image above, character name spellings are not confirmed):
The four-episode series will debut worldwide on Disney+ on September 13.
The anime follows a woman named Romi and her partner as they depart from the devastated Earth and head for a new life on the planet Eden17. However, life has already been made extinct on the new world, so Romi finds herself eking out an even harsher life there. The anime is based on the "Nostalgia" arc of the original manga, which the official Osamu Tezuka website describes as follows:
The story line of this chapter begins with the death of George in an accident shortly after he and his lover Romi begin to live a new life by themselves on the desert Planet Eden 71. Romi was pregnant with George's baby at that time.

Having decided to protect the planet and her child by herself, she repeatedly shuns the world to try to have descendents with George's child. She tried many times but could only have boys. After isolating herself, she wakes up to find an affluent town named Eden.

Phoenix had let an amorphous cosmic creature named Moopie have children with the Romi's descendents. Romi becomes the queen of Eden, but gradually begins to long for earth.

One day, an Eden boy named Com comes upon a mysterious spaceship made of rock in the prohibited deep mountains. Together with Romi, Com departs for the earth of his ancestors that he has never seen.
The anime will also have a film version with a different ending titled Phoenix: Reminiscence of Flower (Hi no Tori: Eden no Hana, literally "Eden's Flower") that will open in Japan on November 3.
Shōjirō Nishimi (Mutafukaz, Batman: Gotham Knight "Have I Got a Story for You," Ani-Kuri 15 "Invasion from Space – Hiroshi's Case") is directing the anime at Studio 4°C. Katsunari Mano (Death Note Light up the NEW world) and Saku Konohana (Children of the Sea) serve as scriptwriters. Tatsuzou Nishida (Children of the Sea chief animator) is designing the characters, and is also the chief animation director. Shinji Kimura (Children of the Sea) is the art director.
The English all-boys vocal group Libera will perform the ending theme song titled, "Eien no Kizuna" (Eternal Bonds).
Source: Press release