---
The staff for the television anime of Piroya's Dekoboko Majo no Oyako Jijō (The Family Circumstances of the Imbalanced Witch) manga began streaming the show's main promotional video on Friday. The video announces more cast members and previews the ending theme song "Welcome!" by the band angela.
The newly announced cast members are: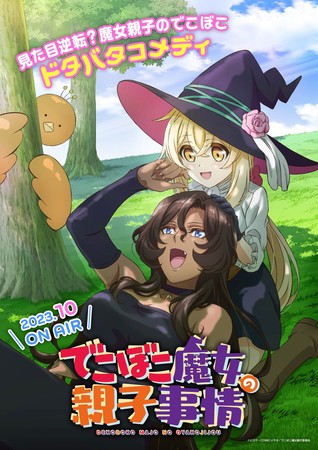 The gag comedy centers on Alissa, who is a witch who lives alone in a forest. One day she finds a human baby, and she names her Viola. Alissa raises Viola for 16 years, but Viola grows beyond even Alissa's imagination. The comedy series focuses on the parent-and-child relationship where appearances are deceiving as to who is the parent and who is the child.
Nana Mizuki plays Viola, while Aoi Koga plays Alissa. The other cast members include:
Kana Hanazawa provides the narration.
Masahiro Takata (Libra of Nil Admirari, High-Rise Invasion) is directing the anime at A-Real and is also directing the sound at Saber Links. GyroKnuckle is in charge of the series scripts, and Miwa Yoshida (key animation for The Seven Deadly Sins, Sword Art Online: Alicization) is designing the characters.
Risa Arai is designing the props, and Risa Nakamura is serving as the color key artist. Masaaki Kawaguchi is directing the art, and Masato Makino is the compositing director of photography. Masaki Utsunomiya (Zero-G) is editing.
The musician myu is composing the soundtrack.
The anime's lead voice actress Nana Mizuki performs the opening theme song "Sugar Doughnuts."
The anime will premiere on the Tokyo MX channel on October 1 at 10:00 p.m. (9:00 a.m. EDT), and it will also run on BS Fuji and AT-X.
Piroya launched the ongoing manga on Flex Comix Inc.'s Comic Meteor website in July 2019.
Sources: Dekoboko Majo no Oyako Jijō anime's website, Comic Natalie
---