AnimEigo founder Robert Woodhead announced at his company's Otakon panel on Saturday that it plans to ship its Blu-ray Disc edition of The Super Dimension Fortress Macross II: Lovers, Again original video anime (OVA) next summer. In addition, AnimEigo will launch the Kickstarter campaign to buy the limited release at the end of August. The public preview of the campaign is "coming soon."
The region-free release will include all six episodes of the video series in BD-50 (dual-layer 50GB) format with AnimEigo's usual options of multi-color standard, multi-color SDH (subtitles for the deaf and hard-of-hearing), and monochrome SDH subtitles.
The release's confirmed bonus extras include clean opening and ending credits sequences, an on-disc art gallery with over 300 color and line art slides planned, an on-disc list of Kickstarter backers, a six-panel printed insert with a poster on one side and the backer list on the other side, and a reversible cover slip with a traditional and a "graphics-heavy" sides. AnimEigo is also working on including two Japanese commentary tracks featuring the production staff and voice cast, as well as a liner notes booklet with interviews with key staff members.
Thanks to the immense archive of production materials that the Macross copyright holder Bigwest has preserved, AnimEigo is "strongly leaning" towards offering a larger 8.5×11-inch (22×30-centimeter) arbook to buyers of the Premium Set (instead of a traditional smaller artbook). The artbook will have over 150 pages, and maybe over 200 pages. If AnimEigo can order a print run of over 1,500 copies, the printer will automatically upgrade the artbook from softcover to hardcover.
In this Kickstarter campaign, AnimEigo is introducing a new stretch goal menu system (instead of a rigid, unchanging list of goals). Every dollar above the Kickstarter campaign's initial goal will be treated as "Stretch Bucks," which backers can use after the campaign ends to vote among the different bonus extra options. AnimEigo also aims to include its traditional project patch and a personalized shikishi illustration hand-drawn by character designer Haruhiko Mikimoto himself (for the top-tier backers).
The initial stretch goals include new Mikimoto art for the packaging and artbook cover, a big poster of the art, and additional audio commentaries (with commentators and topics to be determined with backer input). As in previous campaigns, AnimEigo is also open to ideas for bonus extras from backers, as backer suggestions have led to actual bonus extras in previous campaigns.
Even though AnimEigo's Macross II license is for the United States, Canada, the United Kingdom, Australia, and New Zealand, it can ship pre-orders anywhere in the world except in Japan and China. These shipping options, shipping charges, and stretch goals are subject to change.
---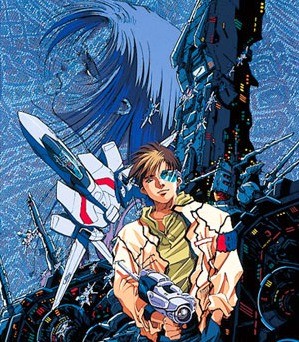 The six-episode anime debuted in 1992. The story is set eight decades after Space War I, and follows a civilian news reporter who meet a mysterious singer from a previously unknown alien race.
Studio Nue began the Macross franchise in 1982 with The Super Dimension Fortress Macross, a television anime series featuring the themes of a love triangle, music, and transforming fighter planes. Studio Nue worked with the advertising agency Bigwest and the anime studio Tatsunoko Production as production partners.
The franchse spawned three more television series (Macross 7. Macross Frontier, and Macross Delta), several theatrical films (starting with The Super Dimension Fortress Macross: Do You Remember Love?), and several video series (including Macross II, Macross Plus, Macross Dynamite 7, and Macross Zero). Macross Delta ran from April to September of 2016, after a preview of the first episode in 2015.
The latest animated work in the Macross franchise, the Gekijōban Macross Delta: Zettai LIVE!!!!!! feature film, opened in Japan in October 2021 alongside the "Gekijō Tanpen Macross Frontier Toki no Meikyū" (Macross Frontier Film Short: Labyrinth of Time) film short.
Sunrise is launching a new Macross animation project.
Bigwest, Studio Nue, and Harmony Gold USA announced in April 2021 that the companies agreed to allow the immediate distribution of most Macross television sequels and films globally. The companies agreed to cooperate on the distribution of future Macross and Robotech projects.
Source: Otakon's AnimEigo panel (Egan Loo)
Disclosure: Bandai Namco Filmworks Inc. (Sunrise) is a non-controlling, minority shareholder in Anime News Network Inc.