---
A website opened on Sunday to announce the television anime of Miya Kinojo's Chillin' in Another World with Level 2 Super Cheat Powers (Lv2 kara Cheat datta Moto Yūsha Kōho no Mattari Isekai Life) light novel series. The website revealed the anime's first promotional video, key visual, main cast and staff, and 2024 premiere.
Akine Itomachi, the artist of the light novels' manga adaptation, also drew an illustration to commemorate the announcement.
J-Novel Club is publishing the series in English, and will release the 12th volume on December 15. J-Novel Club describes the story:
The Magical Kingdom of Klyrode summons hundreds of heroes from other worlds every year to fight in their war against the Dark One and his army of powerful demons. Banaza is one of those heroes, summoned from the Royal Capital Paluma, but something's not right—Banaza is only an average merchant. He has no magic, no fighting ability, and his stats are abysmal. Worse, a mishap leaves him unable to return home!

Rejected as a hero and stranded in another world, abandoned to the far reaches of the kingdom by a cruel king who just wants him gone, Banaza's fate looks pretty bleak. But what will happen once the failed hero candidate finds himself with super cheat powers once he hits level two?
The anime's main cast are:

Satoshi Hino as Flio

Rie Kugimiya as Fenrys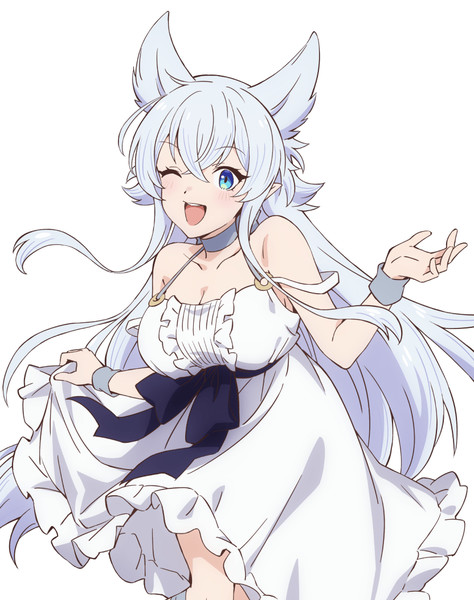 Yoshiaki Iwasaki (Hayate the Combat Butler, We Never Learn: BOKUBEN) is directing the anime at J.C.STAFF. Megumi Shimizu (Banished From The Heroes' Party, My Next Life as a Villainess: All Routes Lead to Doom!) is in charge of the series scripts, and Sōta Suwa (Combatants Will Be Dispatched!) is designing the characters. Kujira Yumemi (Kubo Won't Let Me Be Invisible, Reign of the Seven Spellblades) is composing the music, and Pony Canyon is in charge of music production.
Kinojo began serializing the story in the Shōsetsuka ni Narō (Let's Become Novelists) website in 2016, until they stopped posting on the site in November 2019. Overlap began publishing the story in edited print volumes with art by Katagiri, beginning with the first volume in December 2016. Overlap will publish the 16th novel volume on October 25.
Itomachi launched the manga adapatation in Overlap's Comic Gardo manga website in January 2019, and will publish the manga's ninth compiled book volume on October 25. Seven Seas will publish the manga adaptation's seventh volume on December 12.
Sources: Chillin' in Another World with Level 2 Super Cheat Powers anime's website, Comic Natalie
---