Mysterious entity Bell has black wings, strange aura
---
The official website for the Kibō no Chikara ~Otona Precure 23~ (Power of Hope ~Grown-Up Precure 23~) anime announced on Sunday that Yōko Hikasa will play the anime original character Bell. The character of Bell is a mysterious entity who has black wings and a strange aura.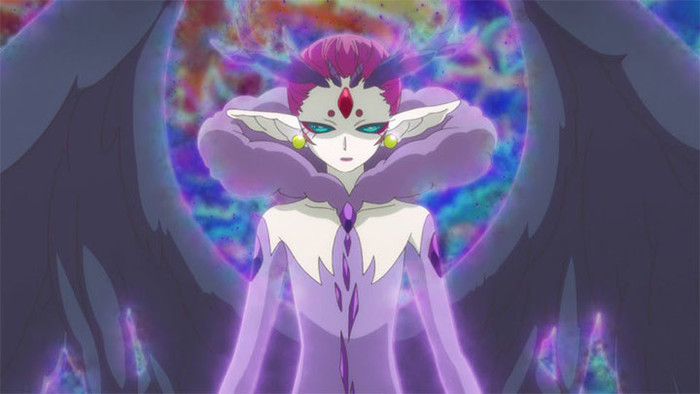 The anime will premiere on NHK Educational on October 7 at 6:25 p.m. JST (5:25 a.m. EDT), and will air on Saturdays.
The anime stars:
Additional returning cast includes:
Takayuki Hamana (director, Prince of Tennis, 2020 Sorcerous Stabber Orphen) is the series director at Toei Animation and Studio DEEN. Yoshimi Narita, who worked on several Precure (Pretty Cure) movies and series before, is in charge of series composition. Atsuko Nakajima (Komi Can't Communicate, Ranma ½) is designing the characters, and Naoki Satō, who also worked on several Precure series including Yes! Precure 5 GoGo!, is in charge of music.
Ikimono-gakari will perform the anime's opening theme song "Tokimeki" (Heart-Throbbing). Cure Quartet – consisting of Precure theme song performers Mayumi Gojo, Yuka Uchiyae, Mayu Kudou, and Kanako Miyamoto – will perform the ending theme song "Shizuku no Precure" (Drops of Precure). Cure Quartet previously performed the second ending theme song for the 2008 Yes! Precure 5 GoGo! anime.
Toei Animation previously announced the Kibō no Chikara ~Otona Precure 23~ and the tentatively titled Mahō Tsukai Precure! 2 (direct sequel to Maho Girls Precure!) anime as part of the Precure franchise's 20th anniversary project. Toei Animation labels both projects as being aimed at grown-up fans.
Mahō Tsukai Precure! 2 will premiere on the late-night "Animazing!!!" block on ABC TV, TV Asahi, and 22 affiliates in 2024.
Sources: Kibō no Chikara ~Otona Precure 23~ anime's website, Comic Natalie
---