Last kaiju is Viras; WANIMA performs theme song "Natsuake," ending song "FLY & DIVE"
---
Kadokawa unveiled a new trailer and a new kaiju reveal for the Gamera -Rebirth- anime during its at Comic-Con International panel on Sunday. The trailer reveals Gamera's fifth and final kaiju opponent Viras, reveals and previews the anime's theme song "Natsuake" (Summer Dawn) by WANIMA, and reveals the anime's September 7 worldwide debut on Netflix. Kadokawa also revealed that WANIMA is performing the anime's ending theme song "FLY & DIVE."
The anime previously revealed four of the five kaiju opponents.
Gyaos
Jiger
Zigra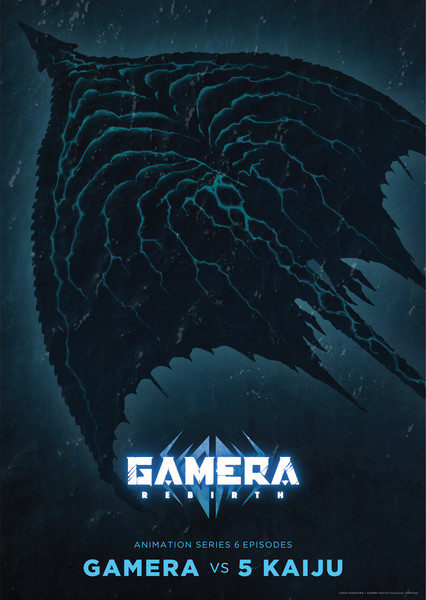 Guilon
The series will have six episodes, focusing on the titular Gamera fighting five kaiju (giant monsters).
The anime's cast members include:
Hiroyuki Seshita (Suzume's CG character direction, Polygon Pictures' Godzilla anime trilogy, Lupin III vs. Cat's Eye) is directing the anime at ENGI. Keisuke Ide is the assistant director. Seshita, Kenta Ihara (Uncle From Another World, Saga of Tanya the Evil), and Hiroshi Seko (Mob Psycho 100) are in charge of series composition, with all three also penning scripts alongside Tetsuya Yamada (Knights of Sidonia). Atsushi Tamura (Weathering With You, Mobile Suit Gundam: Cucuruz Doan's Island) is drawing the character designs. Manga creator Kan Takahama (Nyx no Lantern, Heisei Gamera films) is designing the monsters. Shūji Katayama (Knights of Sidonia: Love Woven in the Stars) is composing the music. Yoshikazu Iwanami is the sound director. Yuichi Ishima is the line director. Rock band WANIMA are performing the ending theme song for the anime.
A manga adaptation of the anime will debut on Kadokawa's Young Ace Up website. The anime will also have a novel adaptation by director Hiroyuki Seshita.
The giant, fire-breathing turtle monster Gamera made his debut in Daiei's 1965 film Daikaijū Gamera (Gamera the Giant Monster). Daiei intended the film to compete with TOHO's similar smash hit giant monster movie Godzilla. The 12th and most recent film in the franchise was Chiisaki Yūsha-tachi ~Gamera~ (Gamera the Brave) in 2006.
Sources: Gamera -Rebirth- SDCC panel (Kalai Chik), press release
---