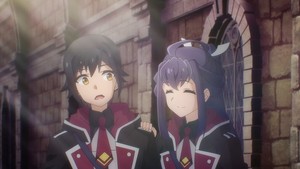 Reign of the Seven Spellblades has always clearly been a story in it for the long haul. There's a full academic career ahead of these wiz kids to be followed, as well as, you know, Oliver's whole long-term multi-murder revenge agenda. So this Ophelia plotline, confirmed as a diversion as it was, would always only amount to an excuse for a season-ending climax of some sort. But holy crap, this finale almost completely fails to deliver even within those extremely tempered expectations. And it does so in the ways Seven Spellblades has consistently strained itself, with its anemic, awkward approach to characterization and plot revelations.
Take the show's handling of Miligan, as an example. She almost comes off like the lead character for the first part of this episode, before sacrificing herself at the end of what's supposed to have been a redemption arc. Except that the Miligan who's been accompanying Oliver and the others in this trip through the labyrinth bears so little resemblance to her previous iteration, with virtually no acknowledgement of the deeds she's redeeming herself for. She gets to deliver one last round of upperclassman info dumping, before getting herself killed in a way that doesn't impact the characters' success in the final battle one way or the other. She isn't even mentioned by anyone after that, save for a scene in the ending showing that Katie still has her disembodied hand familiar hanging around. How does Katie feel about her captor-turned-mentor dying, which she wasn't even there to witness? Who knows, who cares?
That's one microcosm of the overall issues in Seven Spellblades as it finishes this story, with a smattering of character deaths that pass for status quo shake-ups. Ophelia is the central one, naturally, but even with the decently strong deployment of her backstory last week, the show unsurprisingly can't muster much pathos. It is kind of neat that, even having manifested into a massive magical monster mode, she's allowed to articulate her feelings of loneliness and frustration as a result of how this world treated her. It lets the story feel like it regards her as a person if not a fully fleshed-out character. That does come alongside the show once again trying to sell the friendship of Oliver and the others as this amazing personal connection, so affecting that it's what causes Ophelia to be emotionally stalled at the end after their physical attacks on her amounted to nothing. But it mostly comes off like an excuse, even with allusions to actual arcs for characters like Nanao and Pete.
The writing seems to be trying to tie the main characters' friendship in with the one between the upperclassmen, with Godfrey and Carlos striding to resolve things at the end. But if the relationships between the Sword Roses always came off as nominal at best, then the climactic connections between Ophelia and her past pals are even less earned. There's simply nothing to be felt as Carlos steps forward to sacrifice himself alongside Ophelia. Sure, I like Carlos, because he's cute and he was welcoming to Pete that one time. But it's hard to miss him when he's only been in a few, mostly expositional, scenes up to this point.
Even the grandiosity of Carlos's sacrifice, the poignancy of how it's supposed to be the culmination of his relationship with Ophelia, is muddled by Seven Spellblades's expectedly clunky approach. He belts out an emotional ballad in his lovely singing voice that is the ultimate way he can reach his dear friend, and Godfrey ends up monologuing over the whole thing with an exposition on how his friend is immune to Ophelia's powers because he had his gonads magically removed. It's the same issue I had with the last-minute reveal of Chela's elven heritage, except this is even stupider and presented more insultingly.
Some of the dry flippance Seven Spellblades's storytelling has towards all these events seems to be out of intentionally trying to evoke the banal cruelty its wizarding world is built on. The morbid mortality rate amongst Kimberly's student body was referenced way back at the beginning of the series, after all, and Oliver's sure to allude to that again at the end. But rather than coming off as an element our heroes could seek to revolutionize, it ultimately feels like they barely care either. It's a shaggy dog story blithely regarded as such, as the show blasts its theme song while glancing over a collection of characters it's hardly made time to get the audience to care about. I haven't read the original Seven Spellblades novels, but I'll acknowledge that the stories may go places in other, later arcs. However, the anime's placement of this plot as anything resembling a climax or finale feels deeply unearned, especially after taking two extra episodes just to get there.
Rating:





Reign of the Seven Spellblades is currently streaming on
Crunchyroll.


Chris is back for another season of calling wizards nerds. Feel free to disagree with him on that on his Twitter (for however much longer that lasts), or check out his irregular musings on other nerdy subjects over on his blog.

---
Disclosure: Kadokawa World Entertainment (KWE), a wholly owned subsidiary of Kadokawa Corporation, is the majority owner of Anime News Network, LLC. One or more of the companies mentioned in this article are part of the Kadokawa Group of Companies.