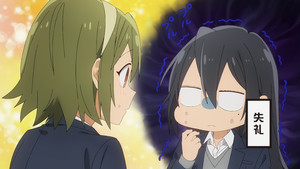 OK, THIS is how you portray the main couple and get me to like them. It's the classic Valentine's Day episode, and with the promise of chocolate comes rising expectations and crippling anxiety. I like the take on Valentine's Day this episode took because it's less about wondering whether you'll get chocolates, but more about making sure the chocolates you make live up to a certain standard. I think the idea is that in most relationships, people are just happy to receive anything from their partner, or at the very least something with a certain level of thought and care. This is probably the episode that I empathize with and related to Kyouko the most because that anxiety of stepping outside of your comfort zone for the sake of giving your partner something you hope they would enjoy was palatable. Even when she was a little bit insecure and all over the place, it never dipped into the realm of cruel, mean-spiritedness like last week's episode did. This is how you get me to like our main couple, by putting them on the same page and meeting somewhere in the middle by the end. The scene where they're enjoying chocolates together and just appreciating each other's company was perfect, which should be the standard of portraying their relationship, going forward.
Of course, I say "going forward" even though technically the main storyline is already over, so this is more of a bonus. I'm still on the fence as to whether or not the storytelling structure of this season is positive or negative. One hit against this episode is that it doesn't feel like a lot of things outside of the main couple were resolved. I would've liked to see what Sakura got Tooru and Yuki instead of just leaving it dangling there at the end. I also feel bad for Shuu because he was finally going to get chocolates from a girl that seemed to have a thing for him but she ended up chickening out at the end, and he was none the wiser. Our class clown just can't get a win in any of these episodes. Still, if the trade-off for him not getting Valentine's Day chocolates is that Honoka manages to have a friend in her grade by the end after showing compassion for their anxiety, then I'll take it. This is up there as one of my favorite episodes of the season. As we're nearing the end of the season, I can only hope that things end on a similarly high note.
Rating:





Horimiya: The Missing Pieces is currently streaming on
Crunchyroll.