How would you rate episode 1075 of
One Piece ?
Community score: 4.1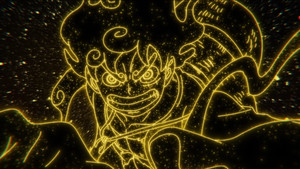 It seems as though the Wano arc delivers nothing but knock-down, drag-out fights, week after week. But episode 1075 shows us that there can be just as much action and drama in the space of a single punch.
This is a beautiful work of art, a moving visual display of heartache and triumph that spans twenty years. On a functional level, I suppose you could reduce it to merely a summation of Wano's major themes/threads, but I think it's clear – both visually and emotionally – that this is more than a mere recap. This episode shows what has been at stake for all this time, and why Luffy simply could not allow himself to be defeated by Kaido. It's not just the dreams of his close friends that are at stake; it's not just the dreams of the current inhabitants of Wano, either. This is a multigenerational cry for freedom, where people have yearned for better lives free of the cruel yoke of Kaido and Shogun Orochi. It is a pain that must be lifted, no matter the cost.
Wow, does this episode sell it. It's a moving tribute to all the plot threads and character moments that have led up to this point, with gorgeous use of color and the steady swell of music to bring home the true agony of what the people of Wano have suffered. The twin match cuts of the image of the gray hands rising as small yellow sparks flew to the heavens being matched with the lanterns at the flower capital as well as gray hands becoming the smoke-stack factories dotting Wano were both very expertly done. In the end, you get what's really at stake: there really cannot be another twenty years of this. The people have been robbed of their lives and spirits – even their sorrow.
Luffy is going to change that.
Rating:





One Piece is currently streaming on
Crunchyroll and Funimation.com.