Ready to bid farewell to Ash Ketchum and his timeless adventures? Not quite? We get you. Join Nick and Nicky this week as they explore the 25-year legacy of Pokémon before the start of a new era.
Disclaimer: The views and opinions expressed by the participants in this chatlog are not the views of Anime News Network.
Spoiler Warning for discussion of the series ahead.
Pokémon: To Be a Pokémon Master is streaming on Netflix.
---
Nick

Welcome, dear readers, and PREPARE FOR TROUBLE!
Nicky

And make it double!
To protect anime from devastation!
To unite all viewers within our nation!
To denounce the evils of isekai and love!
To extend our reach to the stars above!
Nick!
and Nicky!
Team Rocknicks blasts off at the speed of light!
Surrender now, or prepare to fight!
Meowth, that's right everybody. After 25 years, our long national nightmare is over. With Netflix finally releasing Pokémon: To Be a Pokémon Master, Ash Ketchum has been put out to pasture alongside his army of Tauros. May his ageless existence no longer torment the millennial generation.
Though we might be rid of the eternal twerp, the Pokémon franchise still looms large. Since its inception in 1996, Pokémon has become the single highest-grossing media property worldwide, ranking in at an estimated US$88 billion in revenue. While the humble handheld game series sprung from the simple idea of encouraging children to shove as many cute little superpowered imaginary creatures into their pockets as possible, the anime's distribution popularized it into a multimedia juggernaut. The anime chronicled Ash and Pikachu's long journey to become Pokémon Masters, but it's no fiction that they've captured the globe. Just look at this all-language version of the original dub theme!



Pokémon is one of those odd properties that just never went away. Where the rest of its '90s monster-wrangling peers have faded in and out of relevance (mostly just out), this franchise is so monolithic and unceasing that it's never stopped. And for 5/6ths of my life, that included Ash, Pikachu, and their never-ending journey through every last inch of this IP's world. So when news broke that they were finally retiring the character, pretty much everyone our age was at least a little shocked.
Some of my earliest memories were sitting and watching Pokémon and Sailor Moon episodes on VHS tapes we rented from Blockbuster. My Abuelita even had one copy with a few episodes sitting on top of the player in her apartment; rest her soul. Many of those things are long gone, but our love for anime and Pokémon remains.
It's hard to feel nostalgic for, if I'm being honest. I was also a six-year-old obsessed with everything Pokémon, but the fact that it's never gone away makes it hard to miss it. Even long after I stopped following the anime and just stuck to playing the games, I was always aware of what was going on in it. Every few years, Ash would go to the newest region, meet a bunch of characters from that generation's games, and then lose the local tournament. Rinse, repeat, and print money with Pikachu's smug little face on it.
No kidding, this is the smirk of a rodent worth more than Mickey Mouse.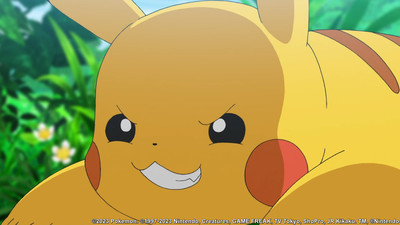 While I haven't followed the anime religiously, I have been kept apace by my friends, the weird kind of adults following the same cartoon for 2.5 decades. For them, this 11 (well, sort of 12?) episode epilogue series was some combination of Christmas and the apocalypse.
I'm in a little of the same boat. I grew up watching a lot of monsters of the pocket variety since the games and series became a bonding opportunity for me and my younger sister. I would say I fell off the main series after Diamond and Pearl. I even fell off the games for a while, yet there was always something else to return to because, beyond the games and the anime, Pokémon seems to have a special move to challenge any apathy. Even today, in the internet world, there are still lots of interesting shorts and specials banking on the series' hottest iteration and the cult of nostalgia. Even just this week, there was ANOTHER short series called Pokémon: Paldean Winds emphasizing the most recent games.
I fell off the anime sometime during the Ruby & Sapphire/Advance era, not long after they had that two-parter where Misty returned. From there, I mostly just played the games and watched the occasional mini-series or special that didn't involve Ash. About the absolute hardest I marked out was when they released that Rie Matsumoto-directed "Gotcha!" MV with BUMP OF CHICKEN.
Putting one of my favorite J-rock bands together with one of my favorite modern anime directors is an excellent way for me to shout like an over-sugared grade schooler.
There's scientific evidence that Pokémon might have even altered the brains of people who grew up with it. According to an extensive study, Stanford's neuroscience division found more consistency in a particular brain region among adults who had played Pokémon over those who didn't. I always joked about how much of my memory must be taken up by the hundreds of unique critters spawned throughout the series that you might as well label a chunk of it "The Pokémon part of my brain," but for all I know, that might be true.



To be sure, a tiny section of my grey matter is eternally dedicated to when I finally beat the Elite 4 in Red the first time. With the anime, though, it's a lot more scattered. Plot points and individual characters have stuck around. Still, without doing a full rewatch of the 25-season series, the best I could do watching To Be A Pokémon Master was wiki-surf whenever something I didn't recognize popped up like this poor man's imitation of Brock.
Of course, something as old as Pokémon has gone through its own evolutions at some point. After all, broadcasters used to say that the estimated kids' TV audience ages out and is replaced about every four years. It's not the only one of its contemporaries that remains. Other '90s-00s craze anime, such as Yu Gi Oh!, DBZ, One Piece, and Sailor Moon, are still around. Yet, To Be a Pokémon Master reminded me how Pokémon is also very static, to the point of both praise and criticism. We boo that Ash remains a stupid 10-year-old, but we cheer whenever Team Rocket appears. There's much that harkens to the original series, including obscure points of continuity that young kids might have to ask their parents about. Imagine asking who this girl is and having your mom explain the time Ash accidentally flirted with a sentient jet.
Though, since Pokémon is still pretty available online and through apps, it's not like kids can't just do their homework.
It's a massive departure from the days of hoping stuff would re-air on TV.
Kids, let me tell you, when they released the trailer for this series, and it featured Ash meeting a Latias, I was 100% on board the conspiracy that the series would end with Ash marrying that Pokémon. After decades of people yelling about Misty, Serena, or a dozen movie-original characters, shipping Ash with a canon gijinka would have been the craziest, funniest choice imaginable.
Alternatively, I figured this would act as a kind of farewell tour for the whole series' cast, with Ash having one-off adventures with his various companions, rematching old rivals, the kind of stuff sports stars do when they announce they're retiring at the end of the season. I was surprised to find out if they made an extra season of the Kanto/Johto era instead.


And again, Team Rocket has never left. Though they do bring back their original motto.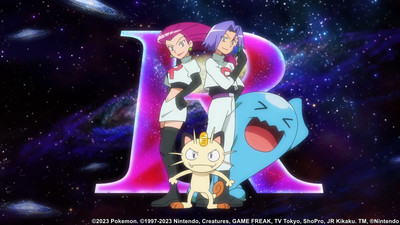 I was more excited to see some of the characters' returning Pokémon than seeing the trainers. This isn't even the first time Brock has been brought back after he rejoined Ash in Hoenn. I was very down to see his Ludicolo, though.
and all of Team Rocket's Pokémon (at least for one episode).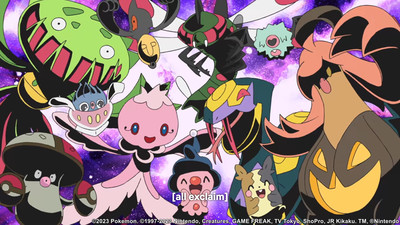 True, this isn't the first time the old guard was brought back. If nothing else, this franchise is ruthlessly efficient at mining nostalgia. But, notably, this has Brock and Misty actively traveling with Ash, getting into random Poké-scuffles and misadventures like the old days rather than one-off guest spots like in Sun & Moon or Journeys. It feels like a wink to the adults who were kids when this trio was synonymous with Pokémon.
It's not even that long ago that the first episode and the first movie were entirely re-animated, and the special at the end of the series even follows the nu-intro continuity, like the 2020 movie Secrets of the Jungle (note the hat).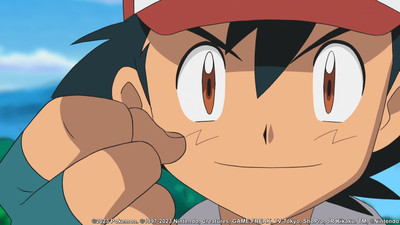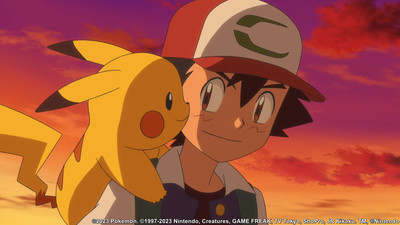 Ah, right. Netflix also included "Distant Blue Sky" in this batch of episodes. It's a TV special that aired separately and, importantly, before To Be a Pokémon Master. Why they stuck it at the end here is anyone's guess, but I'll say it shouldn't be viewed last if you're looking to cap off your AniPoké experience. It's okay, but unless your dream sendoff for this show is getting blue-balled over what Ash's dad looks like, it's not going to give you those warm fuzzies.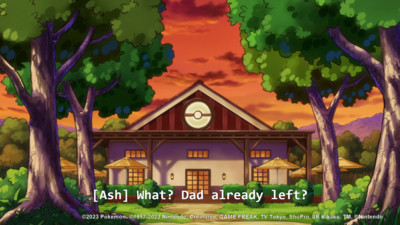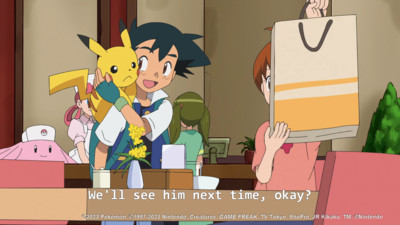 No, it's not okay, Ash! Your father is neglecting you and your mother! You're allowed to be angry about that! Is this why you keep releasing your Pokémon willy-nilly?
Is that better or worse than Ash taking back Mr. Mime and leaving his mom to stay in the house alone without any company? Besides, many of Ash's former Pokémon seem to be doing well for themselves. Some even have jobs or families growing up in Ash's stead.
Look, I'm still angry about Ash giving away his Primeape RIGHT after it learned to trust and respect him. It's a bullshit plot point to get rid of his coolest Pokémon at the time, which is why it isn't in the montage of fond memories they made for this show's opening.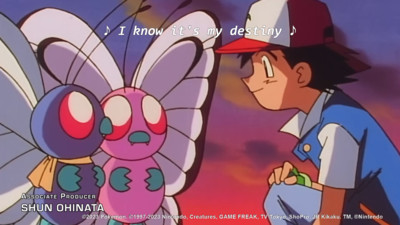 Rotating the 'mons is a better nerf than Pikachu's super move amnesia. It can suddenly forget how to break the sound barrier, but it'll remember how to use Iron Tail as a special attack.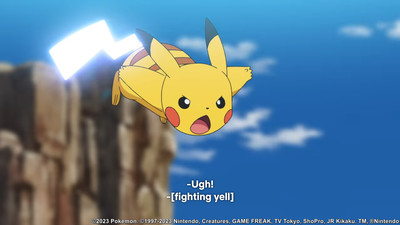 Hey man, it spent a whole episode learning Iron Tail to beat Roxanne's gym, and by god, it's not going to forget it. How else are they going to beat Rock types when this is Ash's battle strategy: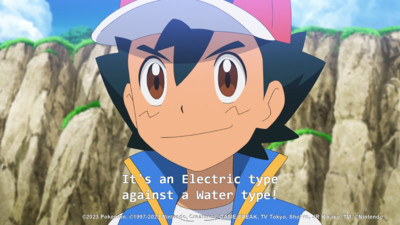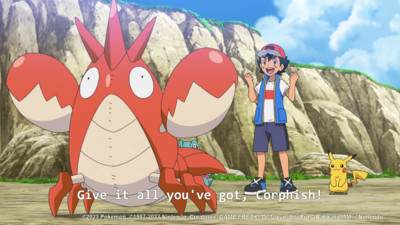 Pictured: Me sending out Charizard to fight my rival's Blastoise in Pokémon Red because it was my highest-level party member, and I was six.
It's okay because Pikachu naturally has six perfect IVs. That makes it so valuable for Team Rocket to want to steal.
Well, except for when it got nerfed at the start of the Black & White anime, one of many details that – from what my weirdo friends have told me – contributes to everybody hating those seasons. One episode with Cilan was enough for me to understand that feeling.
It's a little funny that Cilan was the one with an entire episode to himself when many more beloved characters get nary more than a cameo. While seeing some friendly faces here and there is nice, I don't call this much of a send-off. You'd expect, as champion, that Ash would use this tour as a real victory lap, but little has changed; he and his crew mostly spend time camping until whatever Pokémon finds them. Only when he gets a brief encounter with his long-time rival Gary (Shigeru, after Shigeru Miyamoto in the JP) does he reflect on what it means "To Be a Master."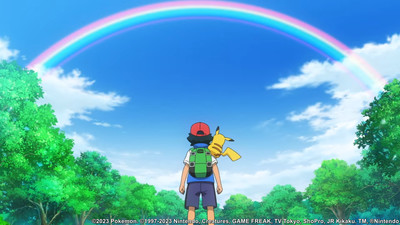 If you just wanted to give Ash a quick send-off, this may be fine as the last episode. However, it's more disappointing if you were expecting to see some of his old friends and rivals in action.
Honestly, if anything, this series made me confident that this version of the Pokémon anime really, really needed to end. While it was fun at first to see this crew together again, it struck me how they hadn't changed since I stopped watching nearly two decades ago. Misty still hates bugs. Brock still sexually harasses every pretty woman he meets. Team Rocket has been doing this shtick for so long that everyone involved is tired of it.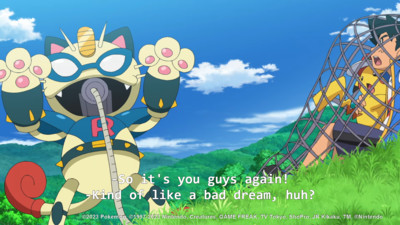 Sure, it's nice to have that consistency – I gather that's comforting to many diehard viewers – but it speaks to how firmly rooted everything about this cast is.
I'm forgiving because it's still a show for seven-year-olds. While many grew up with Pokémon, the core age group has not changed. It hasn't aged up with its audience like some other franchises. I feel a little bad about complaining about something that isn't "for me," yet it's also trying to market my age group (who have kids).
However, it's also not exactly as I remember because I recall many good moments of Pokémon, including times when the original series could be emotional and mature. I usually found that specials tended to have more of those qualities than whatever is currently airing.
It's not really a complaint, so much as an acknowledgment. These characters have had 25 years to calcify, which necessarily limits the stories you can tell with them—even another 15+ years of switching out sidekicks, rivals, and supporting cast eventually had to reach a head. Perhaps the strongest sign that Ash's reign as protag needed to end is that he is still wholly familiar to me, a 30-something adult who hasn't consistently watched his show since middle school.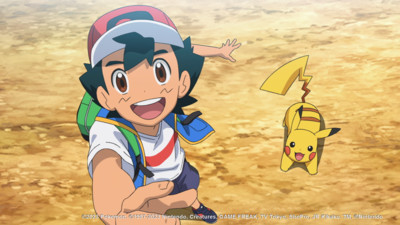 Ash's tenure also isn't fair to the new generation of Pokémon fans either, as his unchanging nature may leave him unable to reflect their emotions and problems. Ash has had his journey but has been long overdue to hang up his hat. Today's
Pokémon
Trainers deserve proper representation for their journeys. I'm happy to let Ash explore independently and look towards the next horizon.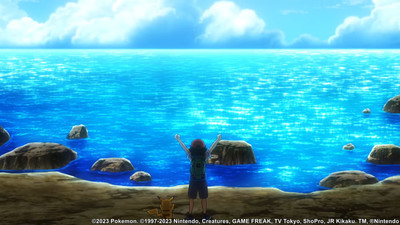 I don't know that I'll ever become a religious Pokémon follower again, but Horizons makes me curious – whenever Netflix gets around to releasing it. For the first time in decades, there's a chance for a new personality and perspective that can reflect or contrast with the kids playing, watching, or (most importantly) buying Pokémon today. That's exciting!
I know from all the specials that Pokémon is not beyond the realm of experimentation and staying relevant. It's interesting to see how side projects depart from the original, including these retro-style shorts featuring Scraggy and Mimikyu.
No matter what, we'll continue to get lots of iterations of Pokémon content, but I'm hopeful this new iteration could bring some necessary change. On the game side, Scarlet and Violet had a lot of exciting approaches to the story and gameplay. Hence, we may get something closer to what the games offer than the anime was previously capable of showing.
From what I've seen secondhand, it seems like Horizons is as significant a departure from S/V's storyline as Journeys was from SwSh. Which, honestly, I'm okay with. In the same way the Sun & Moon anime's take on characters like Lilie was worthwhile, it's cool to have different kinds of stories and characters in these iterations. Heck, the early Kanto seasons played fast and loose with the games' canon, too, and those changes endured long enough to make their version of Team Rocket more iconic than the original.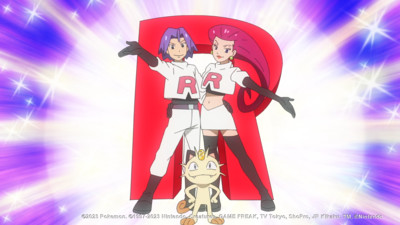 That's true, but it's also a chance for them to be more complex or at least work in a way that would feel resonant and memorable to the current gen, much like the original felt to us when we were kids. What made the original Pokémon anime special wasn't being part of a franchise but the stories it told. There's a good reason why most of the shots in the montage focus on the most sad or heartfelt moments.
In fact, it was when I was researching this column that I discovered the original series' writer, Takeshi Shudō, passed away in 2010. Shudō worked on the anime until 2003, including the first three movies, but passed away later due to a subarachnoid hemorrhage. He was also the creator of Fairy Princess Minky Momo and worked on other anime series such as The Legend of the Galactic Heroes.
Pokémon
has had many other staff changes throughout the years, and this could also be a good opportunity for the next staff to flex and distinguish themselves.
It's intimidating to think this anime has become such an institution that it can outlive one of its key creators. But yes, it could be fun to see the current creators play with new ideas, dynamics, or just not be beholden to character decisions made before the current crop of viewers was born. Pokémon has been many things to many people, and now it has a chance to broaden its already vast horizons. In that respect, I can appreciate this final hurrah for the old guard.